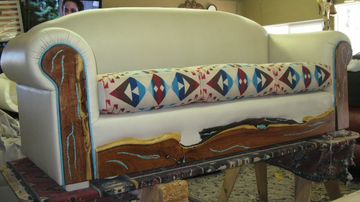 Three cusion sofa with stencil and inlays.
Click images for alternate views.
Item ID: 9113
Three cushion sofa with arrowhead stencil design. Unique turquoise and bone inlay on mesquite. Approx. 7 feet wide, 4 feet deep, 3.5 feet tall.

Call for ordering procedure. Terms: Half on order; balance prior to shipping. Shipping fee includes handling, wrapping and crating.
© 2021 Northwest Native Designs